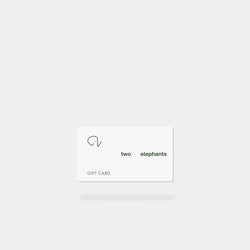 want to make your friend's dog a happier pup - but don't know their sizes / preferred color?
we've got you covered: two elephants' gift card!
--
may be used partially or full as payment,
may be used in conjunction with 1 promo code.
expiry date: 6 months after purchase.
--
this is a virtual card, and will be sent to the email entered at checkout.
there won't be a physical card to be sent.
email us if you'd like to buy gift card in custom amount.
still have questions?
we're more than happy to assist you.

you can reach us by email to: